Frames for Prescription Eyeglasses in Katy, TX
Exclusive Independent Frames and Premium Products
At Vision Republic, we carry high-quality, independent frame lines for prescription glasses not typically found in most optical stores that align with our philosophy of care and quality. We offer best in class lens technology and treatments to deliver clear and comfortable vision. Our lenses are aspheric designed to eliminate the "coke-bottle" glasses appearance. Our lenses are also UV protected and treated with several coatings to reduce distracting glare for safer nighttime driving, resist scratches, and resist smudges.
Our goal is to improve your quality of life by enabling you to see clearly and comfortably. A good pair of quality glasses frames made from high-quality materials will not only look aesthetically appealing, but will also not irritate the skin or feel uncomfortable. It is also good to have a set of glasses to give your eyes a break from contact lenses or to use with you have an eye infection. Contact our optical store in Katy today and start seeing clearly again.
We take the Time to Match You with the Right Glasses Frames
Dr. Chau and his team will work with you for however long it may take to match you with your perfect eyeglasses. After determining the strength of the lenses during an eye exam, our staff will walk you through selecting a prescription lens to help you see through, and then have a little fun with styling you during frame selection. Afterwards, we take personalized digital measurements using our Eye-Ruler 2 to ensure accuracy and keep a safe distance from the patient without touching the patient. Your prescription glasses will typically be ready for pick after 7-10 Business days after your personalized lenses have been made and go through quality control.
Finding the Right Eyeglasses
Vision Republic's glasses store will help you find glasses frames that compliment your skin tone, facial features, and match your personality. We'll also make sure that they do not slide down, aren't too tight on the temples/side of the head which can cause a headache of pain, aren't painful on the back of the ears after a long period of wear, and not too small or too wide for the wearer. We also make adjustment to the frames for the wearer. Additionally, we carry titanium frames that are hypoallergic, which means they will not cause acne breakouts, rash, or skin irritation.
sBrands We Proudly Carry
We are the only glasses store around Katy, TX who carries this luxury line of high-quality, handcrafted pieces from Japan. Each piece is crafted with 250 steps made by 13 Master craftsmen. Looking closely at the eyeglass frames, you will notice incredible detail with hand engraved designs.    
Vision Republic is the only carrier in the area for these sporty/luxury line handcrafted Denmark designed eyeglass frames made in Japan. These pieces take 5-6 months to create and they use specific curated colors with designs made to enhance the wearers natural features.  
These glasses frames boost a minimalistic Danish design. As an added bonus, with every purchase of a frame, an eyeglass is given to a person who needs them.  
Our glasses store proudly cares these Danish designed, environmentally friendly frames with polarized sun clips available. Every purchase of an Eco Frame will also plant a tree to help restore forest.  
Gwen Stefani's bold, edgy, and luxury eyewear line made to deliver a statement.  
Gwen Stefani's eyewear with a mix of sophistication and rock n' roll pieces that includes junior fits 
Our kids' prescription eyeglasses frame line with a mix of colors, designs, and fun features that your child will love wearing. 
Our favorite children's frameline with fun colors that have safety and flexibility in mind. Flex Frames has 25+ years of providing quality eyewear that is BPA free, Latex Free and Hypo-Allergenic.
We Can Even Add Prescription Lenses for Your Existing Frames
Can't find a frame in our optical store that you like or have a frame already? No problem! We can create prescription lenses for your existing eyeglass frames. However, depending on the frame, the wearer may not feel comfortable with that particular frame for a long period of time. We can also replace your existing prescription lenses.  
Our Focus Is Your Eyes
We dedicate ourselves to genuine care for the health of your eyes while providing a smooth and memorable experience.
Additional Treatment Options for Your Lenses
Our optical store also offers additional treatment options to take your prescription glasses to the next level.  
Blue Light Filters
Digital screens emit blue light which can strain and irritate your eyes from continual uses. Unfortunately, most of us can't escape our devices, but blue light filter lenses have the potential to reduce the strain and fatigue on all digital devices. 
Progressive Lenses
Progressive eyeglass lenses aid in viewing different distance with less head turning with a seamless look. These means you won't need multiples pairs of glasses for regular use and reading with you to swap between anymore.  
Foggy Lenses
Anyone who has ever had glasses before know that foggy lenses can be a problem. Our optical store offers lens treatments to help prevent foggy lenses. 
Insurance Coverage
Vision Republic will help you to maximize your insurance benefits! Vision plans often cover a portion and sometimes the entirety of the cost of your new eyeglasses. The remaining balance is then usually the responsibility of the patient to cover along with the copay.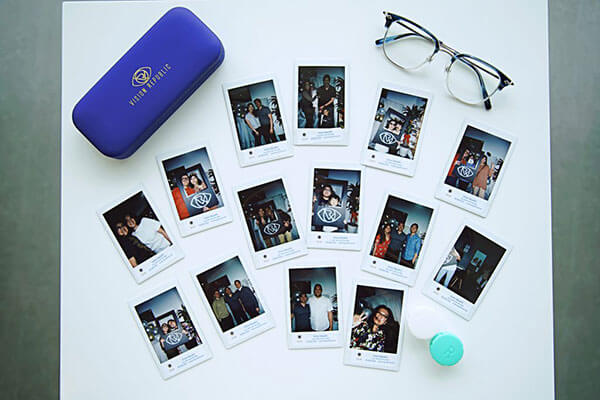 Ready to
Live, Feel, and See Your Best
? 
Start your journey towards improved vision! The eyecare professionals at Vision Republic in Katy, TX are here to help you find the perfect eyeglasses that match your features and personality. Choose from our wide selection of premium and exclusive independent frames that will not only have you seeing clearly, but also looking your best. Stop by our glasses store in Katy or connect with us online or over the phone at (832) 802-0632 to start your journey today!