Eye Exams and Vision Tests in Katy, TX
Your Vision is Our Priority!
At Vision Republic in Katy, TX, our goal is to help you to see why your eye health is important and how it will impact your vision in the future. Our comprehensive eye exams are crucial to maintaining and protecting your vision. Our optometrist, Dr. Steven Chau Jr., O.D., has years of vision test experience to fit your individual needs. Our office is equipped to recognize and correct:
Dry Eyes
Color Blindness
Astigmatism
Deficiencies and Degeneration
And More!
If you suffer from any of these, you won't believe what a world of difference one call can make to improve the quality of your vision. Don't wait for your vision test– call our office in Katy, TX now at (832) 802-0632 or contact us online.
The Importance of Regular Eye Exams
A vision test is recommended annually, depending on your age, to monitor your vision and take any corrective measures you might need. Neglecting your eyecare can lead to irreversible damage. Eye examinations are able to catch the slightest change in your vision to help prevent and correct long-term problems. Catching these abnormalities early will minimize the effects of strain on your eyes. The longer you go without correcting vision problems, the harder your eyes will strain on a daily basis, which can exponentially diminish your quality of sight.
What can a Vision Exam Detect?
Eye Exams are not only important in correcting vision abnormalities such as astigmatism, but they can show optometrists a lot more about your heath than meets the eye. These vision tests can reveal eye diseases such as glaucoma and health concerns like diabetes and high blood pressure.
Our doctors use eye tests to detect the most minute changes in your vision and take quick action to treat:
Nearsightedness
Farsightedness
Amblyopia
Focusing
Teaming
Strabismus
Cataracts
These preventable vision problems do not discriminate and can target anyone at any point in life. Age definitely plays a factor in poor vision, but there are so many other factors such as family history, diet, weight, and sudden accidents that can increase your chance of vision problems. Take advantage of our eye tests to see how we can help your eyes.
The Earlier the Better
Starting treatment at a young age can significantly save you from further damage. Vision in newborns does not fully develop for at least two years. After that, children are recommended to visit an eye doctor if there is a strong history of vision abnormalities in the family. Our family-friendly environment is second to none in the Katy area. Our staff is ready to provide any treatments you or your family members need.
Our Focus Is Your Eyes
We dedicate ourselves to genuine care for the health of your eyes while providing a smooth and memorable experience.
What to Expect During Your Vision Exam
Our Katy location prides itself on superior individualized service with an emphasis on hospitality. We aim to enhance your vision test experience by offering water, coffee, tea, and light reading materials.
During your eye exam, we use high-tech, innovative equipment. Our industry-leading eyecare service is moving away from asking the age-old question "1 or 2?" and there are no unpleasant surprise "air puffs" in our facility. We also offer an alternative to dilation with retinal photography. You won't be disappointed with these new solutions to traditional optometry. Come experience the future of eye care now!
Inside the Vision Exam Room
You will start by meeting one of our experienced technicians who will perform a few eye tests and ask a couple questions about your eye health history. You will then go to the exam room and we will gauge how well you are currently seeing as well as test for:
Color Blindness
Eye Movement
Pupil Reaction
Afterward, we use a microscope to look at the health of the inside and outside of your eyes. We then diagnose any eye abnormalities and provide you with customized corrective lenses or an individualized alternative treatment plan.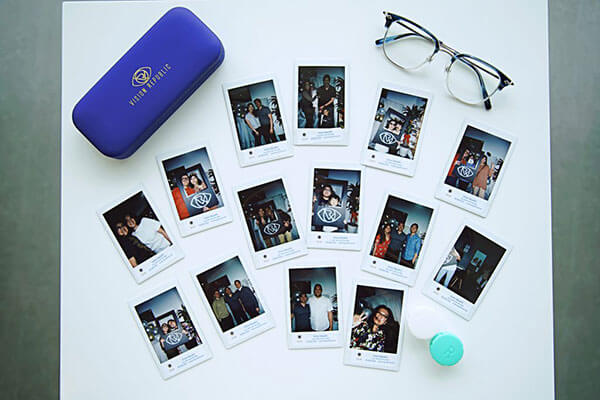 Is Cost Causing You Stress?
Vision exams range in cost based on your individual vision insurance coverage. We accept most insurance providers to allow everyone in the Katy, TX community access to affordable eye exams. No insurance? We offer competitive rates for out of pocket annual eye exams. Get a quote from our office and find out how we can fit your financial situation.
Ready to See Clearly? 
Come in and see for yourself why our Katy, TX Vision Republic location is right for you. You won't be disappointed with our unmatched service and innovative eye test techniques. Contact us online or call us at (832) 802-0632 to schedule an appointment.