Prescription Sunglasses in Katy, TX
Exclusive Designer Shades and Premium Frames
Vision Republic is an independent optometrist that carries independent eyewear collections specializing in craftmanship, give back to the community, and help the environment. We offer best in class lens technology and treatments to help our patients see better. Our goal is to improve your quality of life by enabling you to see clearly and comfortably even on bright, sunny days. Contact our prescription sunglass store in Katy today and start seeing clearly again.
The Perks of Prescription Sunglasses
A good pair of prescription sunglass lenses will enhance your vision at all viewing distances with little distortion as well as:
Reduce glare
Resist minor scratches
Repel smudges/water/dust
Provide UV protection from the sun
While enhancing vision, they protect your eyes with best in class UV protection and make vision more comfortable while operating a vehicle or elevate your experience on vacations. Not only are they stylish, but they protect the areas of the eyes where you don't apply sunscreen on.
You can also style your prescription sunglasses lenses with custom add-ons such as different colored transitions, or make them into sunglasses with a custom coloring/tints.
Polarized Prescription Sunglass lenses
We highly recommend polarized prescription sunglasses as it dramatically enhances your lifestyle not only by enhancing your vision, but also by complimenting your personality and aesthetic appearance. Polarized lenses dramatically reduce glare and increase contrast. For example, if you look at a pond of water on a bright, sunny day, there would be too much glare from the water to see the fish. If you placed polarized sunglasses on, you would be able to see the fish in the water with incredible detail. This also translates to comfortable vision while driving especially on rainy days followed by bright sunshine. Polarized lenses would help you see the lines on the road to make you more comfortable operating a vehicle.
Vision Republic's Brands
Vision Republic is the only carrier in the area for this collection of sporty and luxurious prescription sunglass frames. With their bold colors, minimal design, and premium metals, these prescription shades are expertly crafted to better enhance your natural features.
We are the only sunglass store around Katy, TX who carries this luxury line of artisanal Japanese sunglasses. Each frame is crafted by 13 master craftsmen using 250 steps that melds old world artisanship with futuristic styles, making each frame a true work of art.
These prescription sunglass frames are all about expressing yourself while helping the environment. These bio-based frames are lightweight, comfortable, and sustainable with 95% of each frame being crafted using recycled metals. And as an added bonus, for every frame sold, MODO plants a tree.
Our prescription sunglass store is proud to carry Gwen Stefani's line of frames that features a perfect mash-up of classic Hollywood movie star glamour and modern street influences.
Gx by Gwen Stefani
Vision Republic is proud to carry this affordably priced line of fashion-forward prescription shades that are a mix of sophistication and rock n' roll pieces.
Our collection of Zuma Rock sunglasses is designed to be durable and comfortable with a uniquely bold look that will stay on your child's head during any activity or exercise. This line of line prescription shades for kids come with a mix of colors, designs, and fun features that your child will love wearing.
MiraFlex for Toddlers
Miraflex creates a signature line of Italian made, flexible & safe, plastic prescription sunglass frames with no metal parts, making it the safest option for your child's protective eyewear. Miraflex glasses are also BPA Free, Latex Free & Hypo-Allergenic.
Our Focus Is Your Eyes
We dedicate ourselves to genuine care for the health of your eyes while providing a smooth and memorable experience.
How We Pair You with the Right Prescription Shades
When getting your prescription sunglass lenses, you'll first need a comprehensive vision exam with Dr. Chau. After obtaining your prescription strength, our team will take the measurements needed to make your lenses and we'll listen to your preferences in lens design and tint color you're looking for. Our staff will then take the time to match you with brand and frames that are match your appearance and unique style. Your prescription sunglass lenses will then typically be ready to be picked up after 7-10 business days.
Insurance Coverage
Vision Republic will help you to maximize your insurance benefits! Vision insurances will typically partially contribute to the overall cost of your prescription sunglasses depending on your individual prescription. The remaining balance is then usually the responsibility of the patient to cover along with the copay.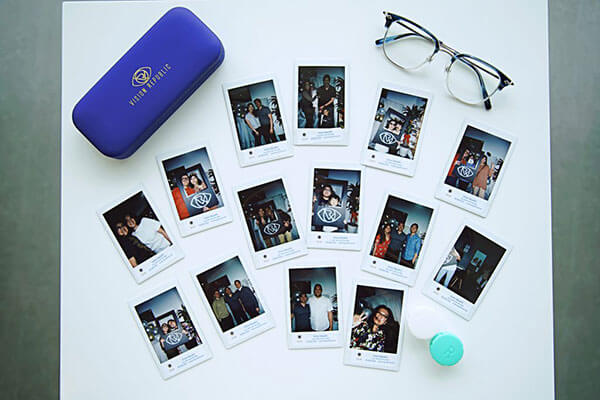 Ready to See Your Best?
Start your journey towards improved vision even in the sun! The eyecare professionals at Vision Republic in Katy, TX are here to help you find the perfect pair of prescription sunglasses that match your features and personal style. Choose from our wide selection of premium and exclusive designer shades that will have you seeing clearly AND looking your best. Stop by our store in Katy or connect with us online or over the phone at (832) 802-0632 to start your journey today!